Beautiful Welsh Artisan Cheese
Cheese Making began in the family as far back as 1903 with Carwyn Adams great, great, grandmothers Lizzie Wyn and Leisa Jones making cheese for the family and to sell at the local market. The tradition stayed in the family until 1987 when Gwynfor and Thelma Adams (Carwyns Parents) rekindled the family tradition and Caws Cenarth was born!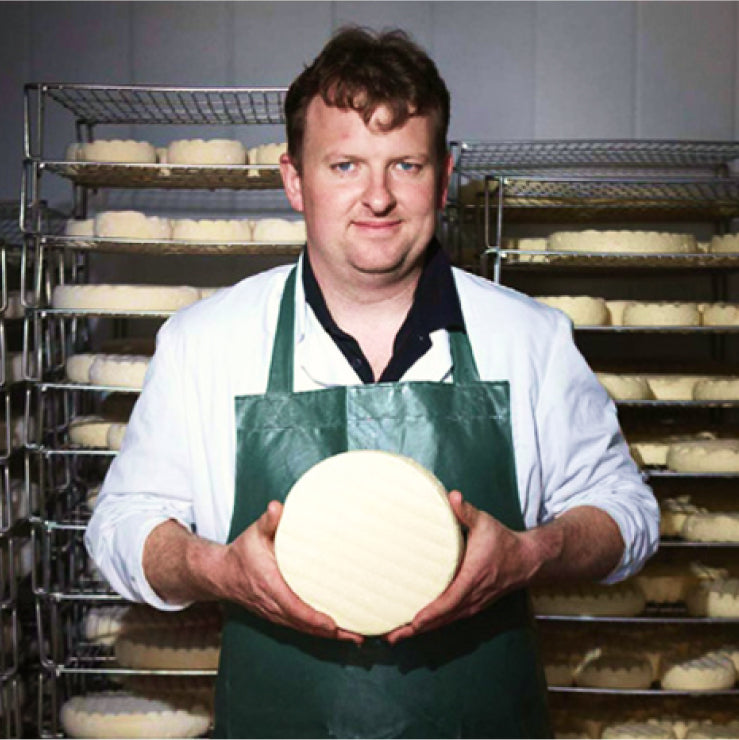 Three Generations of Caws Cenarth Welsh Cheese Making
Caws Cenarth is a family business started by Gwynfor and Thelma Adams in 1987 in response to Milk Quotas. Here, on their farm, Glyneithinog, in the lovely and lush valley of the river Cych, they drew on a six generation tradition of cheesemaking and Caws Cenarth quickly established a reputation for its creamy, fresh-flavoured Caerffili.
Our Cheese Production Process
At our Caws Cenarth Dairy, we pride ourselves on the meticulous process of crafting exquisite cheeses. See the step by step breakdown below.
Our cheese-making process begins with fresh milk sourced from local farms,
which is immediately pasteurized and transferred to our vats, maintained at a
warm 32-degree temperature. We introduce natural milk-originated bacterial
cultures tailored to the specific cheese types we produce, whether it's soft
white-rinded cheese, blue cheese, or those with unique colour transformations
like Golden Cenarth.
The milk then undergoes fermentation and acidification for up to 2 hours,
followed by the addition of a coagulant and a 3-minute stirring process. This
results in the formation of curds, but initially, they are too moist and
fragile. Our experienced cheesemakers employ specific wire cheese curd cutters
to transform the curds into sugar cube-sized pieces, releasing whey. After
further moisture removal through stirring, the curds are carefully guided by
gravity alone to moulding machines, where they come together to form round
cheeses. These cheeses are left to rest overnight in an incubation room for
culture acidification.
On the second day, if they meet the desired moisture and acidity levels, the
cheeses are hand-salted, placed on racks for 2 hours to infuse with salt, and
then washed to remove excess salt. They undergo surface drying before being
moved to maturation rooms, with soft whites typically maturing for about 3
weeks.
Blue cheese undergoes a piercing process, creating holes for the blue mould
to thrive.

Once matured, the cheeses are chilled, dried, and packed, undergoing a final
2-week ripening process in a chilled environment to enhance flavour and texture
before being sent to their destinations.
What our clients are saying...
"We are proud to stock the exquisite cheeses from Caws Cenarth. The quality and flavours of their products never fail to impress our customers. The range of cheeses they offer, each with its unique character and taste, adds a delightful variety to our selection. The craftsmanship and attention to detail that go into their cheese production are evident in every bite. Our customers rave about the rich and distinct flavours that truly capture the essence of Wales. The team at Caws Cenarth have been a pleasure to work with, always ensuring prompt deliveries and excellent customer service. We highly recommend their cheeses to anyone seeking a truly exceptional culinary experience."
Follow our journey on Instagram
@cawscenarthcheese