Caws Cenarth Dol Las and Caramelised Shallot Cheese Galette
Delight in the heavenly combination of flavours with this Caws Cenarth Dol Las (Sheep's Milk Cheese) and Caramelised Shallot Cheese Galette. Golden rounds of sweet shallots are nestled atop a buttery shortcrust pastry, generously adorned with slices of creamy Caws Cenarth Dol Las Cheese. Baked to golden perfection, for an easy lunch, this galette is a great option with very few ingredients. 
Ingredients 
1 packet Jus-Rol Shortcrust Pastry Block 
20 round shallots, peeled and sliced 
1 tbsp white wine vinegar 
2 tbsp dark brown sugar 
100 Caws Cenarth Dol Las Cheese (Sheep's Milk)
1 Egg, beaten to glaze 
Fresh thyme sprigs (to garnish) 
Mixed salad leaves (to serve) 
Flour (to dust work surface)
Instructions 
Preheat the oven to 180°C/gas mark 4 
Heat a large non-stick pan over a medium heat and add the shallots. Cook the shallots, stirring regularly, until they begin to colour (about 10 minutes) then add the vinegar and sugar.
Continue to cook until the sugar and vinegar have caramelised, and the onions are soft. Transfer to a bowl and allow to cool slightly. 
Dust a clean work surface with a little flour and roll the pastry out until it's about ½ cm thick. Using a sharp knife, trim the edges of the pastry to form a large circle, about 40cm in diameter. Transfer to a baking tray 
Place the shallots in the centre of the pastry, leaving a wide border around the edge. Slice the C and arrange on top of the shallots 
Fold the edges of the pastry to form a border that has a pleated edge over the shallots, but leaving middle with the cheese open.
Brush the pastry edge with the beaten egg and bake for 15 minutes. Sprinkle the baked galette with a few fresh thyme sprigs, and serve with a mixed salad
Reviews for Caws Cenarth Dol Las and Caramelised Shallot Cheese Galette
Looking for More?
Try Our Other Recipes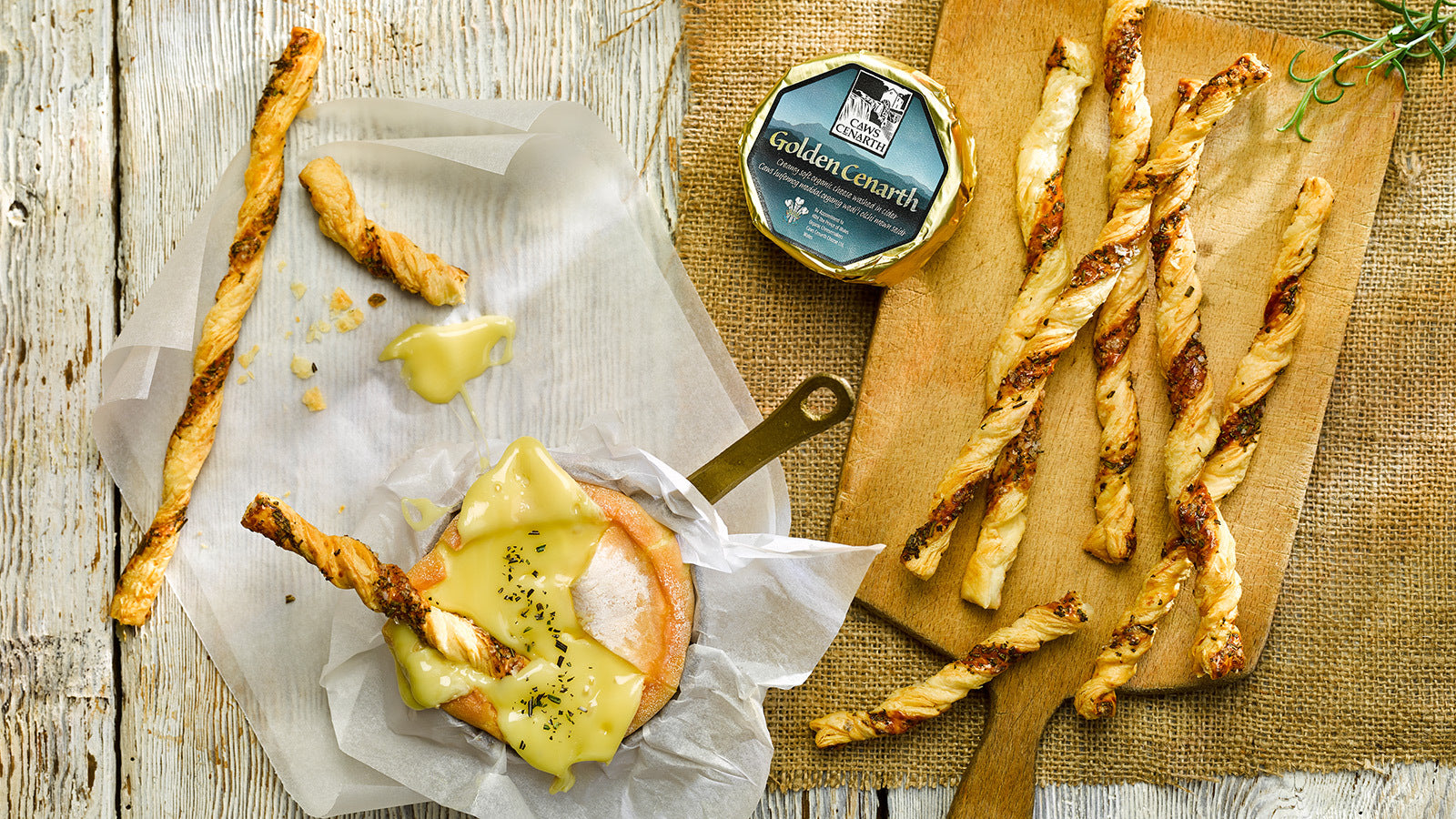 Baked Golden Cenarth with Cheese Twists
These flaky and crispy cheese twists are fantastic as a party appetiser and the perfect accompaniment to dip into the sumptuous Caws Cenarth Golden Cenarth cheese. With only a few ingredients, you'...
Read more
Follow our jounrey on Instagram
@cawscenarthcheese