Article: Pear & Walnut Salad with Perl Wen Cheese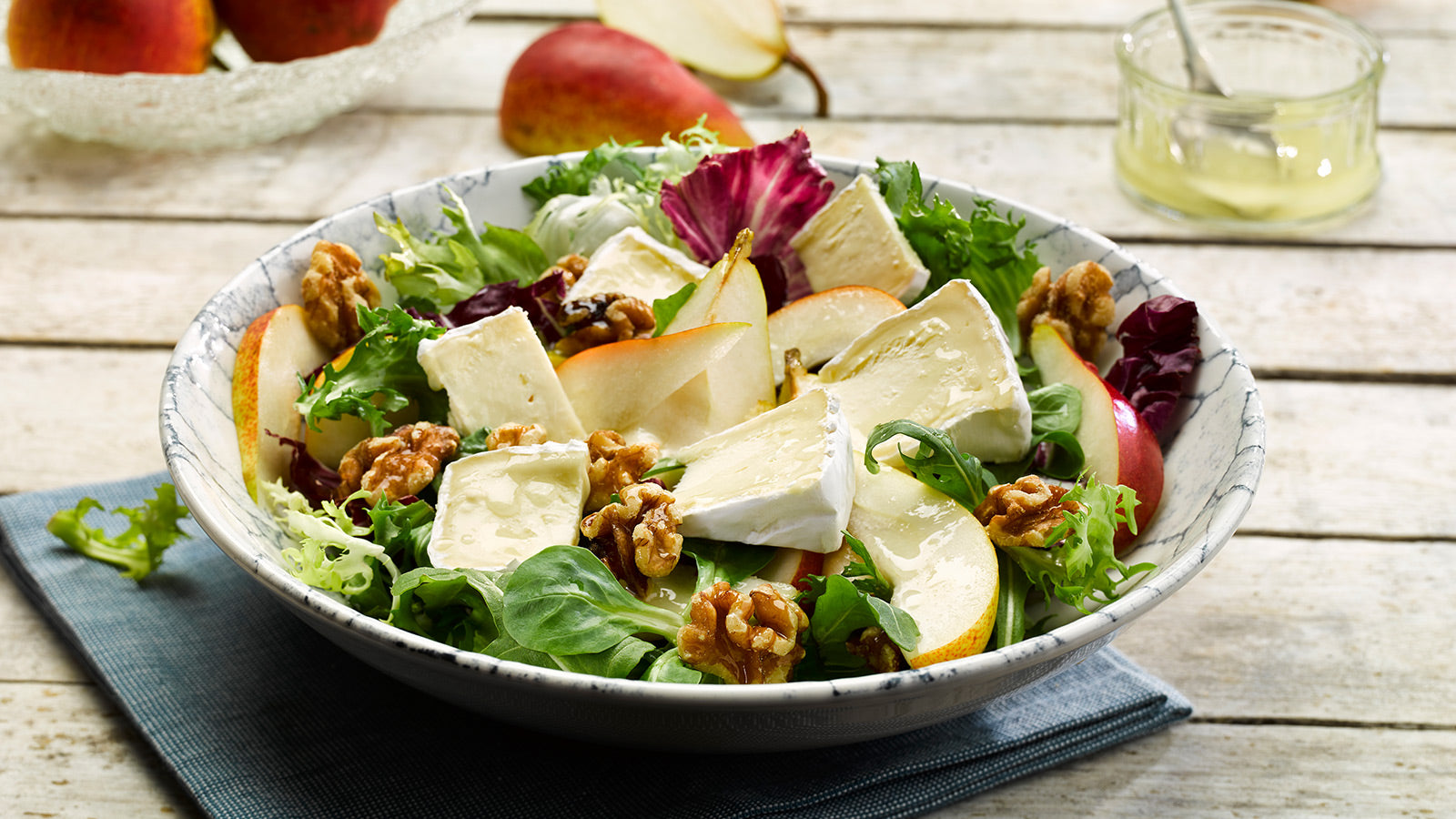 Pear & Walnut Salad with Perl Wen Cheese
The delicious Caws Cenarth Perl Wen Cheese is the centrepiece of this salad. A medley of mixed salad leaves, sliced pear, and crunchy walnuts come alive, adorned with a generous serving of Caws Cenarth Perl Wen Cheese. Drizzled with a zesty lemon dressing, every bite is an enchanting harmony of flavours and textures.
INGREDIENTS
Lemon dressing
2 tablespoons fresh lemon juice
2 tablespoons olive oil
Salt and black pepper
Salad
200g mixed salad leaves approx. 4 handfuls, a combination of rocket, chicory, lambs lettuce.
1 pear cored and finely sliced
50g walnuts
25g Caws Cenarth Perl Wen Cheese
INSTRUCTIONS
In a small bowl whisk the lemon juice with olive oil and season with a little black pepper and pinch of salt.
Gently toss the leaves with the sliced pear and walnuts.
Place in a serving bowl and scatter over the Perl Wen Cheese.
Drizzle over the dressing.
Serve straight away.
Reviews for Pear & Walnut Salad with Perl Wen Cheese
Dawn
"I'm blown away by the Perl Wen Pear and Walnut Salad! The combination of the creamy Perl Wen cheese, succulent pears, and crunchy walnuts is an absolute masterpiece. The flavours come together in perfect harmony, and the vinaigrette dressing adds just the right touch of tanginess. It's like a symphony of taste and textures in every bite. I had it as a side dish at a dinner party, and everyone couldn't stop raving about it. This salad is a true gem that adds a touch of elegance to any meal!"
Dennis
"I'm not usually a salad person, but the Perl Wen Pear and Walnut Salad has completely changed my mind! It's a revelation of flavours and textures that dance on your palate. The creamy Perl Wen cheese melts in your mouth, the sweet pears burst with freshness, and the walnuts provide that satisfying crunch. The vinaigrette dressing ties it all together beautifully. I've had it both as a light lunch and as a side with grilled chicken, and each time it has been a taste sensation. I'm hooked and can't wait to enjoy it again."
Looking for More?
Try Our Other Recipes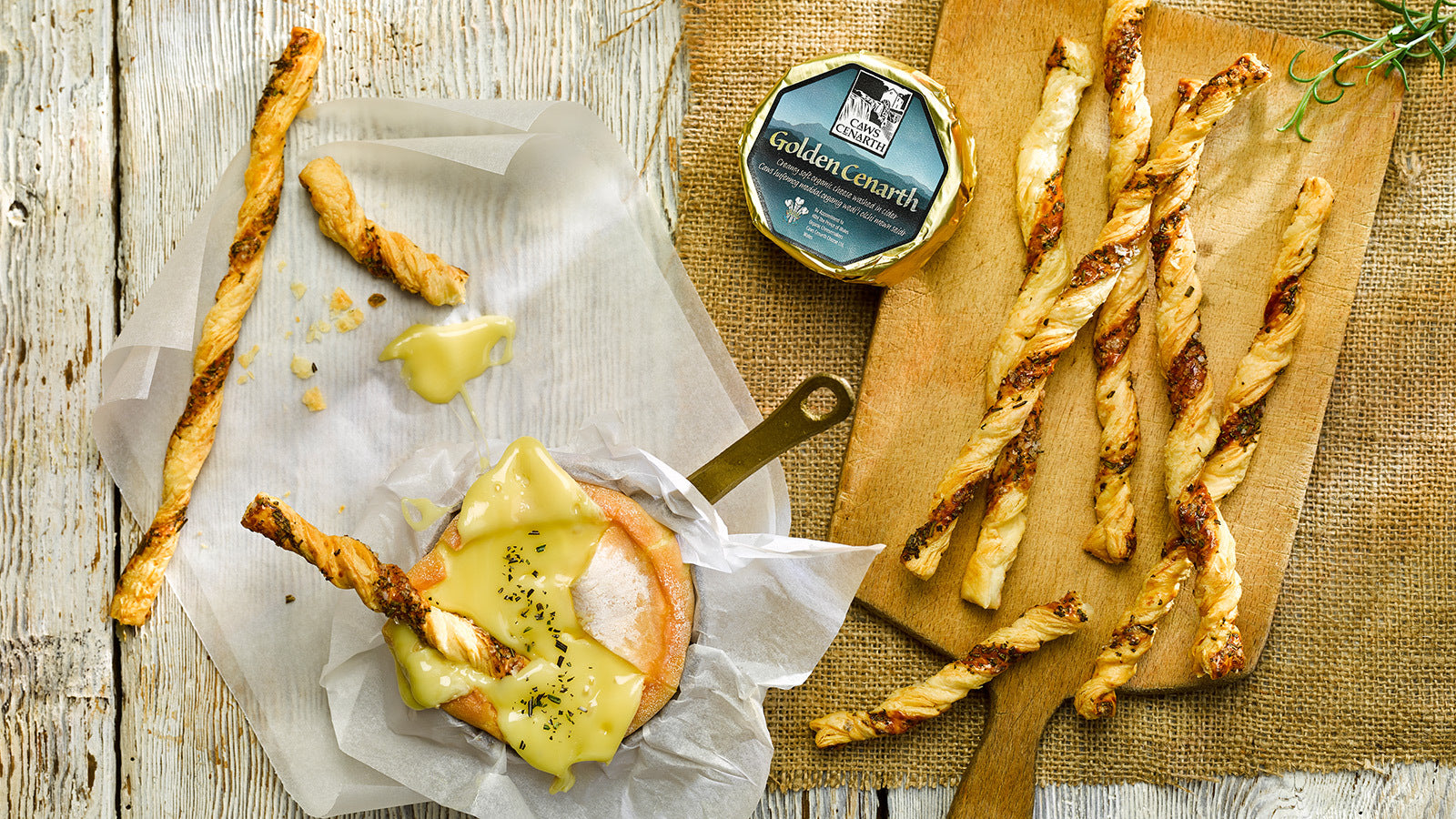 Baked Golden Cenarth with Cheese Twists
These flaky and crispy cheese twists are fantastic as a party appetiser and the perfect accompaniment to dip into the sumptuous Caws Cenarth Golden Cenarth cheese. With only a few ingredients, you'...
Read more
Follow our jounrey on Instagram
@cawscenarthcheese