Pan Baked Golden Cenarth with Ciabatta Croutons
This delicious cheesy treat is perfect to share with friends! Warm, generous, chunks of garlic-infused ciabatta croutons are dunked into melted Golden Cenarth cheese. So quick and simple, this is the ultimate get-together treat!


Instructions
Preheat the grill to a high setting.
In a bowl, mix the olive oil, garlic puree and seasoning.
Lay the ciabatta slices out on the tray and pour the mixture onto both sides of the ciabatta.
Grill in batches for up to 4 minutes.
Turn the grill down to a medium heat and allow to cool.
Meanwhile, warm the pan and place the Golden Cenarth in the centre.
Heat until the cheese is loose and soft.
Slice open the Golden Cenarth and place the ciabatta croutons around the cheese.
Serve immediately and enjoy!
Reviews for Pan Baked Golden Cenarth with Ciabatta Croutons
Elmer
"The Pan Baked Golden Cenarth with Ciabatta Croutons is an absolute winner! I tried this recipe for a gathering with friends, and it was a showstopper. The combination of warm, garlic-infused ciabatta croutons and melted Golden Cenarth cheese is a match made in heaven. The croutons provide a satisfying crunch that contrasts beautifully with the creamy, gooey cheese. It's the kind of treat that brings people together. The simplicity of this dish makes it a go-to option for any get-together. I'm already planning to make it again for my next gathering – it's that good!"
Looking for More?
Try Our Other Recipes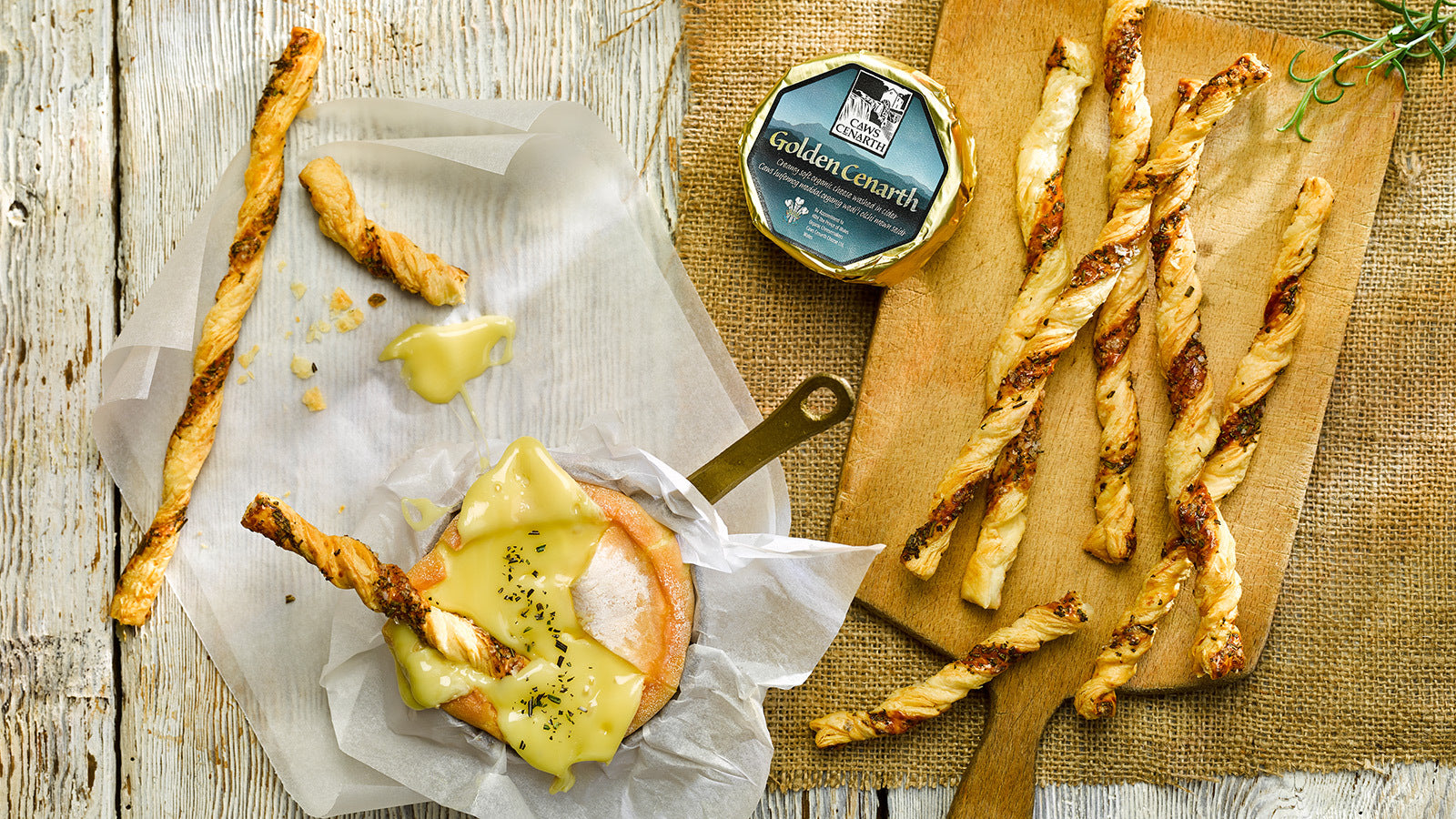 Baked Golden Cenarth with Cheese Twists
These flaky and crispy cheese twists are fantastic as a party appetiser and the perfect accompaniment to dip into the sumptuous Caws Cenarth Golden Cenarth cheese. With only a few ingredients, you'...
Read more
Follow our jounrey on Instagram
@cawscenarthcheese